About
Faculty
Programmes
Gallery
E-Resources
Department Activities
Prospectus
NewsLetter
About
About the Department
With the blessings of Lord Almighty, the M.Sc [CS] department was started in the year 1998 and M.Sc [IT] in the year 2001, with an aim of providing conducive ambience for learning Management & Career oriented subjects, keeping in view the changing trends in education. After the introduction of autonomy in the year 2009, the department has started revising the curriculum at regular intervals, meeting the industry norms. Industry experts offer their valuable suggestion to improvise the syllabus from time to time during as members of Board of studies. Institutional training is also a part of academics which student undergoes every year to get exposure of the corporate world. The department has tie up with IIT, Mumbai for Spoken Tutorial project which is part of curriculum enabling the students to gain exposure on recent tools and languages. Students are further advised to study online courses to upgrade their skills for employment. The focus of M.Sc Computer Science is on Python programming, Data Analytics and Cloud Computing, whereas M.Sc Information Technology is on Linux programming, Database Management Systems and Networking. All the passed out students of the department are holding prominent positions across the globe.
Mission
To upgrade the knowledge in Computer science and Information technology through latest technologies
To organize workshops on latest trends to gain hands on experience
To equip them with technical and soft skills and make them employable
Vision
To facilitate a conducive environment for post-graduate education in the field of computer science and Information technology and to produce graduates for global society with moral values.
Best Practices of the Department
The Department creates cultural cohesiveness which shares the values, ethics and right level of engagement
Syllabus of the department is upgraded at par to the industry
Induction programme is organized every year for the students
Parents-Teachers Interaction is organized systematically
MOU with IIT Bombay for spoken tutorial is part of the curriculum
Encouraging students to attend NPTEL course organized by Government of India
Organizing workshops and guest lectures on latest technologies and tools by inviting people from Industry
Training on Soft skills & Professional Skills
ICT based Teaching –Learning
Student feedback system on Academic and Non-Academic Reforms
Faculty
Advisor & Head of the Department
Ms. P. Suganya, MCA, M.Phil., SET
Assistant Professor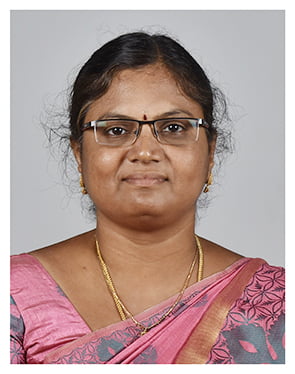 Dr. S. Deepalakshmi, MCA, M.Phil., Ph.D., NET
Assistant Professor
Ms. M. Kalaivani, MCA, M.Phil., SET
Assistant Professor
Dr. A. Anitha, M.Sc., M.Phil., Ph.D., NET, SET
Assistant Professor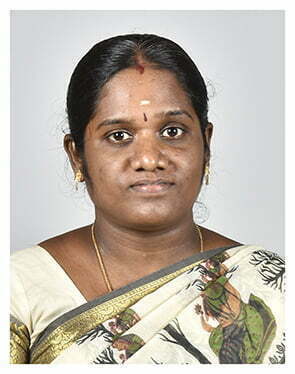 Dr. S. Anitha, M.Sc., M.Phil., Ph.D.
Assistant Professor
Ms. S. Shunmuga Priya, MCA, M.Phil., NET
Assistant Professor
Dr. A. Kavitha, MCA, Ph.D.
Assistant Professor
Dr. A. Sindhuja, MCA, M.Phil., Ph.D., NET, SET
Assistant Professor
P.S.L. Rajah
Teaching Assistant
Gallery
Seminar on Information Security
Dated: 18-07-2019
Workshop on Big Data Analytics
Dated: 01-08-2019 & 02-08-2019
Motivational Talk
Dated: 29-08-2019
Workshop on SoftSkills
Dated: 26-09-2019 & 27-09-2019
Seminar on Big Data Analytics
Dated: 04-10-2019
Guest Lecture on Emerging Trends
Dated: 29-02-2020
E-Resources
YOUTUBE CHANNEL
E-RESOURCES