Welcome to

DDGD Vaishnav College

Dwaraka Doss Goverdhan Doss Vaishnav College, a linguistic minority institution established in the year 1964 by the Rajasthanis and Gujaratis settled in Chennai for the cause of higher education. The college with a sole purpose of imparting knowledge and value based education saw its grand day on 30th June 1964 with one course in B.Sc. Mathematics with Shri. Totadri Iyengar (teacher of Dr. APJ Abdul Kalam) as its first Principal. Dwaraka Doss Goverdhan Doss Vaishnav College has been a haven for generations of enthusiastic learners through five decades and more. College was founded on the principles of Vaishnavism, with the sole purpose of imparting value based quality...
Shri. Ashok Kumar Mundhra,
Secretary
"All our dreams can come true, if we have the courage to pursue them"— Walt Disney Dreams may seem to be far removed from reality. They may seem impossible and improbable. But little do we realize that all of us have in us the strength, patience and the passion to fulfil our dreams. The vision and dreams of a few kind hearted philanthropists and educationists, led to the founding of this institution...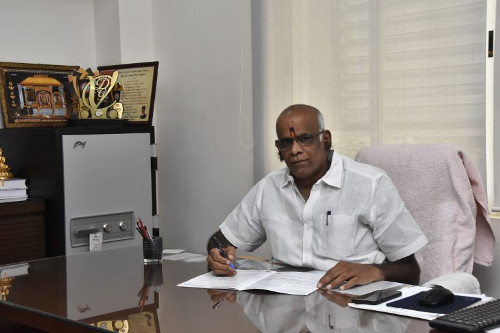 Dr. S. Santhosh Baboo, M.Sc. Ph.D.,
Principal
The meaning of education has transformed greatly in today's technology driven and digitally connected world that we live in. An educator in the present times has to adopt a multi-dimensional approach having knowledge creation, confidence building and honing leadership skills at its core. While many of our students have been greatly contributing to various renowned and reputed organisations as exemplar leaders, the institution also focuses on developing entrepreneurship skills among students so that they would have the courage and conviction to establish an enterprise and create a legacy....