About
Faculty
Programmes
Gallery
E-Resources
Department Activities
Prospectus
NewsLetter
About
About the Department
The Department came into existence in the year of 1964 offering Chemistry for pre-university classes and as an ancillary subject to Mathematics (B.Sc). The department started the Under Graduate programme in the year 1968 and Post Graduate course was introduced in the year 1985 with 12 Students. Department attained the status of research centre by obtaining affiliation for Ph.D in 2000 and subsequently M.Phil (Fulltime and Part time) was introduced in 2001. The department offers full time M.Phil and Ph.D programmes to motivate and shape the students career in a multidisciplinary approach towards Teaching, Industry, Research and Development. The college attained autonomous status in the year 2009 and this helped the department to introduce specialization subjects also came out with innovative papers and important topics to meet the current requirement of the industry. The department received critical acclaims for the introduction of innovative courses both by the students and alumini and enjoys a very high success rate. Most of our under graduate and post graduate students continue higher studies and many of them are well placed in reputed organizations in research and teaching. Conduct of seminars, workshops, lectures and conferences is also a part of academics which student undergoes to get exposure of the current science. The Department has been revising the syllabus regularly under the choice based system. Apart from the academics the students of department of chemistry take part in various cultural and extra curricular activities and win many prizes and bring laurels to the department and to the college
Vision
The vision of our department is to foster to keen interest in the field of Chemistry through dedicated teaching, innovative, instructional methods and commitment to students. It is to kindle interest in the young minds towards research, motivate and mould them so as to face the challenges of their future career. The ultimate aim is to emerge as centre of excellence in chemical sciences in order to cater the needs of the industry and the society at large.
Mission
To educate students with state-of-the-art curriculum and advanced research facilities.
To raise the younger generation as socially and morally responsible chemists.
To preserve the wealth of mother earth through safe chemistry and promote green environment.
Best Practices of the Department
Academics
The department constantly motivates students in promoting their skills in participating in intra and inter department activities on the concept of green chemistry, wealth out of waste, quiz events on science and education, awareness on social issues.
Chemistry related innovative events for creative thinking and imparting knowledge has been carried out for the past five years in chemistry department events like Rasayanotsav, chem. battle. This has motivated the students and paved way for a competitive attitude at the world stage.
The department conducted invited talks and lectures through well established resource persons for the benefit of students to clear competitive examinations like SET/NET/GATE examinations.
Extension of knowledge through innovative and simple teaching methods were provided to school students and government school teachers by our faculties.
The department constantly motivates and has encouraged students and teaching faculties to attend workshops, seminars, conferences and symposiums both at the state and national level.
To attain self confidence, the students are moulded to provide individual seminars thereby he/she develops better skill on understanding, explaining and teaching the concepts such that a suitable platform is created for those who pursue for career in teaching profession.
To understand the essence and joy of learning chemistry, a concept called fun chemistry was carried out to allied chemistry students for the past two years.
To incubate research activities, the department provides an excellent opportunity for P.G students to carry out projects off and on the campus thereby imparts the value of quality education. This platform provides the student to pursue in research and development labs, quality control labs, production and process industries.
The department has produced more than twenty five publications in the last years in peer reviewed and well acclaimed journals.
For the welfare of students including that of slow learners, our faculties extend support with teaching by taking special classes beyond the regular working hours and even on institution holidays.
The progression of the students and the performance in academics are regularly monitored and information provided to the parents through PT meetings.
Laboratory
The department of chemistry has unique policy and measures in protecting the environment and nature for which it adopts a policy of reuse and recycle the chemicals that are used for synthesis and as solvents.
The curriculum is designed that certain experiments uses costly chemicals that are necessary for practical courses. Iodine in carbon tetrachloride is recycled in one of the experiments in P.G laboratory such that cost effective method is employed.
Preparation of methyl orange, azo dye, ferrous ammonium sulphate and microcosmic salt is a part of curriculum for U.G students is this is also utilised in the U.G and P.G labs as reagents for other experiments thereby reducing the wastage of chemicals and adopting a policy of reusing.
New experiments are designed in the curriculum that involves sophisticated analytical instruments like electrochemical work station, Uv-visible spectrophotometer, flame photometer and Infra red spectrophotometer. Experiments involving these instruments require chemicals in a microscale which is very much cost effective and less time consuming than the conventional methods.
In the post graduate lab, the students are encouraged to minimise the usage of carcinogenic chemicals like acetone, ether and volatile organic solvents and the material safety data sheet of every chemical used in the lab is incorporated before handling.
Chemicals of fuming nature and other hazardous chemicals are placed in well marked zones and fume hoods.
An efficient fire alarm system is installed in the U.G and P.G laboratories.
The department conducts a lecture series namely "Inspiring Alumni " where our most distinguished alumni are invited to share their experience and expertise to motivate students
Programmes
Courses offered by the Department
Under Graduate
Post Graduate
M.Phil Courses
Ph.D Programme
Syllabus
Time Table
Gallery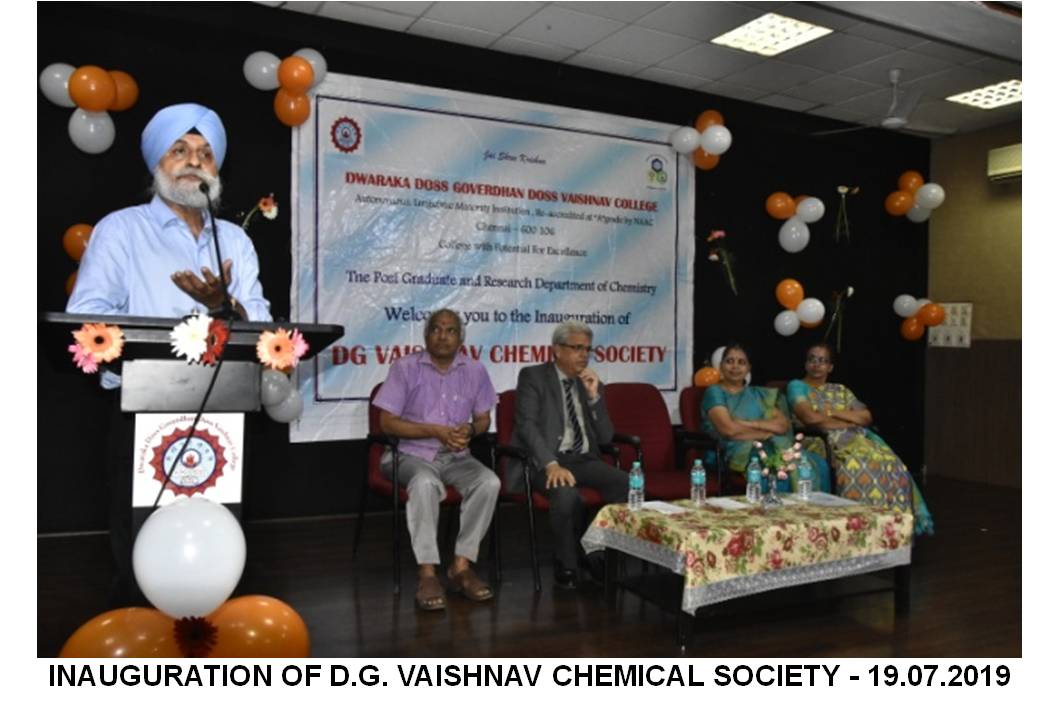 E-Resources
E-RESOURCES
YOUTUBE CHANNEL
Department Activities
Academic Activities
Annual Planner
Alumni Meet