About
Faculty
Programmes
Gallery
E-Resources
Department Activities
Prospectus
NewsLetter
About
About the Department
The Department of B. Com. Corporate Secretaryship was initiated in 1982 in the Aided Stream in the Day College with one Section. A program with a unique scholarly blend of Arts, Commerce and Professional foundation, it is a perfect trampoline to reach for the pinnacles of success in education, profession and employment. The Department practices a Learner-centric approach to create a dynamic space for students in their pursuit of knowledge in Commerce, Accounting and various Laws.
The Course aims to foster the intrinsic value as a feeder in terms of shop floor experience and hands on training as a precursor for professional programs like Company Secretaries, Chartered Accountants, Cost accountants. The Syllabus, Teaching-Learning methodology and Evaluation are based on the Outcome Based Education pattern which has been integrated with the CBCS. The curriculum is updated regularly in line with recent trends. The core competency of the Faculty is harnessed and directed towards empowering the students with skill sets crucial in providing rich intellectual knowledge and to improve the employability quotient for their holistic development.
A distinctive feature of this Course is the Institutional Training which integrates practical industry experience coupled with application of core concepts in the evaluation of the performance of corporate entities.
Objective
To Serve as a Preparatory Course for the students aspiring to become Company Secretaries.
Vision
To empower the students with knowledge, skills, attitude and ethics in line with the dynamic changes in the socio-economic environment; to nurture high calibre scholarly attributes fostering good governance; to encourage critical thinking through experiential learning in pursuit of the holistic development of the students.
Mission
To impart an in-depth knowledge and understanding of core courses in accounting for business and the relevant corporate and other laws
To promote lateral thinking and a spirit of enquiry among students thereby encouraging a creative approach to provide solutions to complex challenges in business entities.
To apply updated teaching learning methods and andragogy to foster experiential learning through the practical application of business knowhow.
To harness the richness of entrepreneurship and multidisciplinary knowledge as a feeder for professional courses and start-ups.
To nurture ethics, governance and social responsibility as the mantras of success for life-long learning.
Best Practices of the Department
Feeder for Professional courses – CS, CA, CMA
Empowering educators
Experiential & enthusiastic learning [self-paced online courses]
Institutional training & Project/ Internship
Certificate courses, workshops and seminars
Dyna Sec Association activities to hone professional and personality traits
Mentoring
Placement and Career counselling
Sports and Cultural activities
Outbound activities
Counselling of Students
Mentoring is an important practice of the Department, to add a personalised element in motivating and counselling the students in certain specific situations. The faculty engage with the students to motivate and steer them with guidance and counselling on academic as well as personal matters.
Certificate/Value Added Courses
Experts from various institutions are invited by the department to conduct career awareness programmes and career counselling sessions to support the inherent interests of the students to pursue professional programs.
The Institute of Company Secretaries of India.
The Institute of Cost Accountants of India.
The Institute of Chartered Accountants of India.
Association of Chartered Certified Accountants [UK]
Indira Gandhi National Open University.
Eligibility for Admission
Completion, with a pass in the Higher Secondary Examination (Academic or Vocational Stream) conducted by the Government of Tamil Nadu or an Examination accepted as equivalent thereof by the Syndicate of the University of Madras with Accountancy and Commerce as Major subjects.
Faculty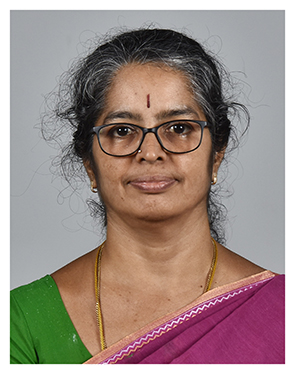 Dr. Prabha Rajagopalan, M.Com., M.Phil., SLET, Ph.D.
Head of the Department
Mr. D. Premkumar, M.Com., M.Phil., SET
Assistant Professor
Dr. K. Kalpana Devi, M.Com., MBA, SET, Ph.D.
Assistant Professor
Mr. Balaji. M, M.Com., M.Phil., Dip. in Taxation
Assistant Professor
Mr.R.Dinakaran Dip in EEE, B. COM (CA)- Pursuing
Office Assistant
Programmes
Courses offered by the Department
Under Graduate
B.Com ( Corporate Secretaryship)
Certificate Courses
Certificate in Event Management
Certificate in Credit Appraisal for banks and Financial institutions
Certificate in Mathematical aptitude for Competitive examinations
Certificate in MS-Excel for Business excellence
Certificate in drafting, appearances and pleadings
Syllabus
Time Table
Gallery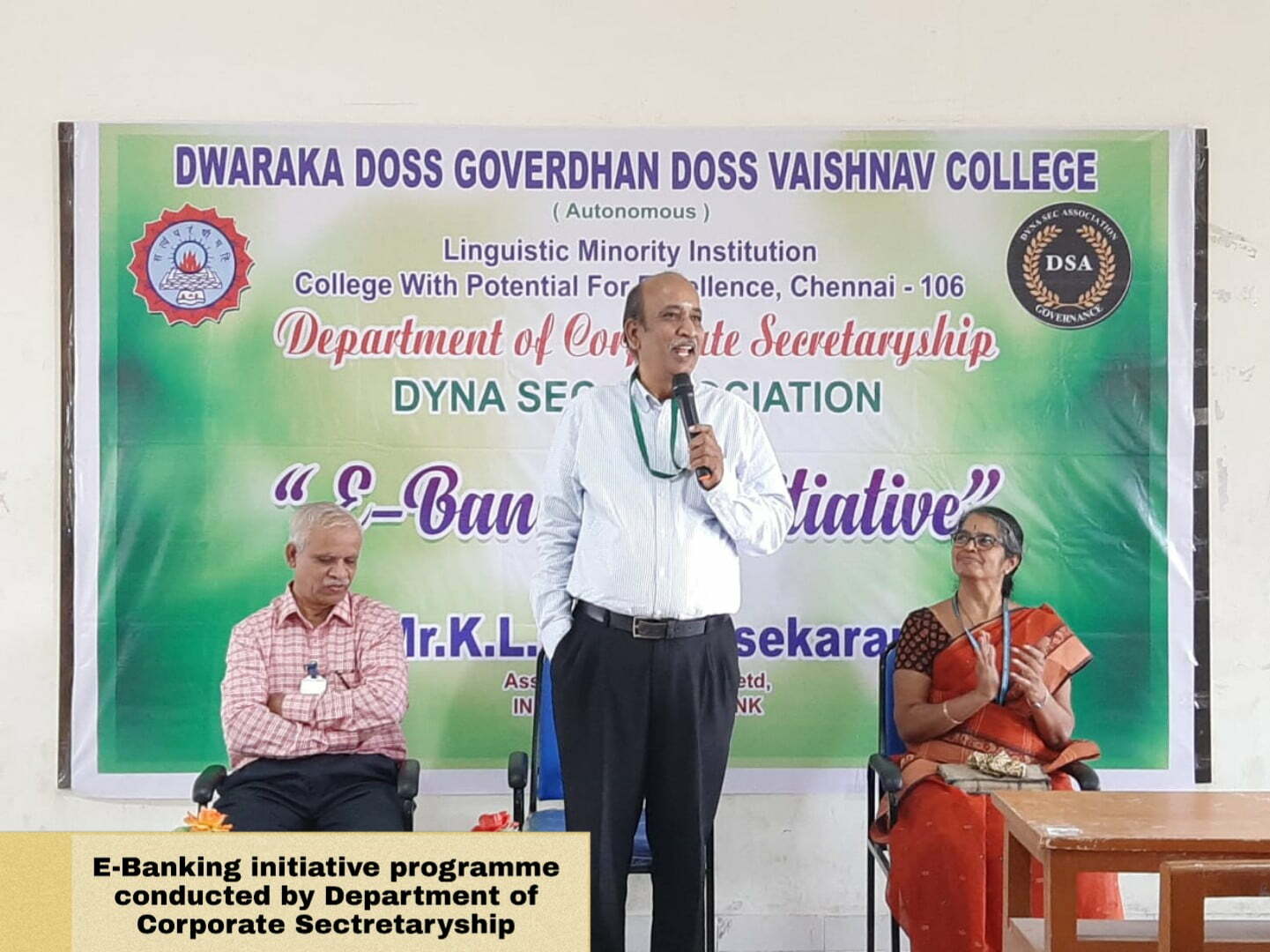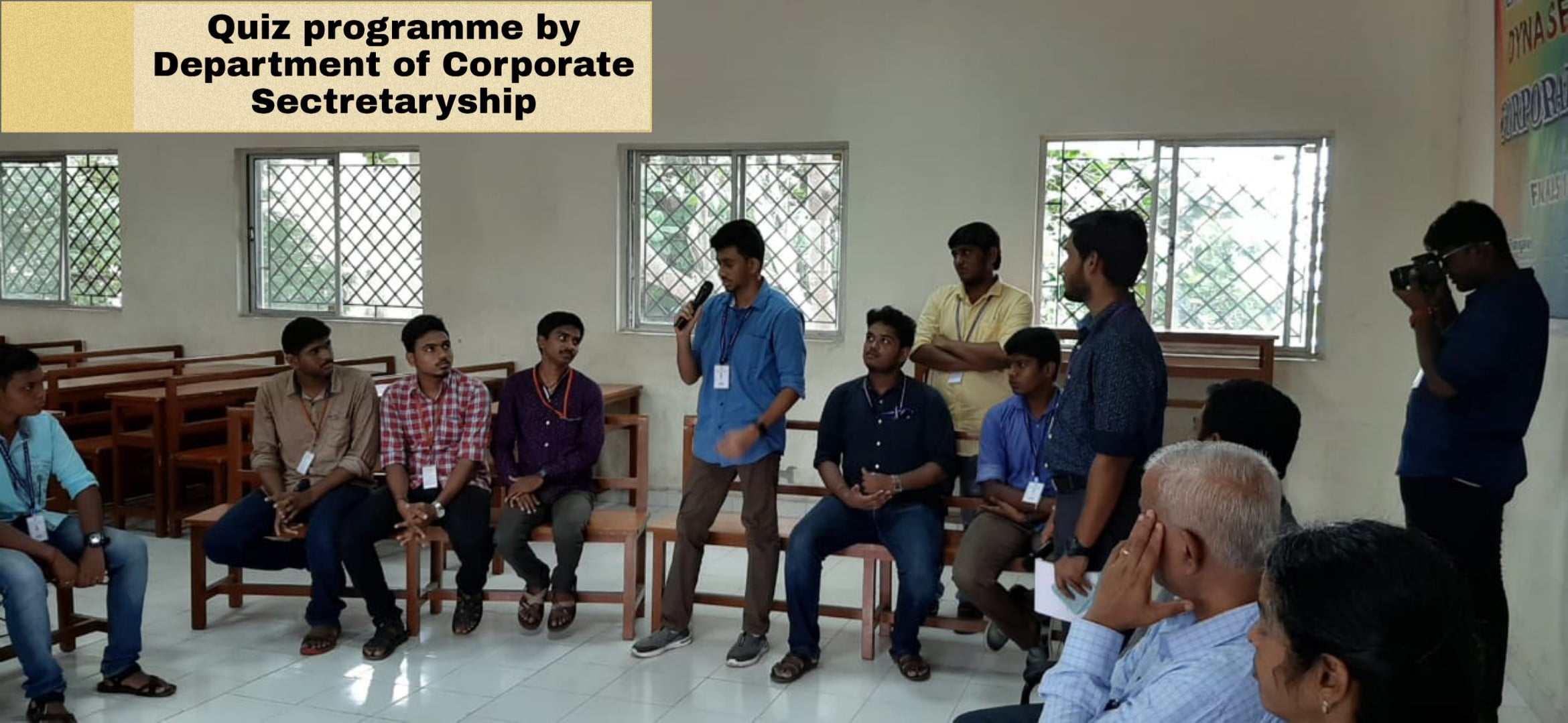 E-Resources
DEPARTMENT YOUTUBE CHANNEL
DEPARTMENT NATIONAL WEBINAR YOUTUBE CHANNEL